Did you enjoy that Roast Burger I posted about last time? Well, sign up for
Arby's Extras
right now and you'll receive a coupon for a FREE Roastburger sandwich. Your welcome email should arrive in your inbox within 24 hours with your free coupon. No purchase is required.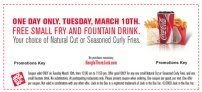 Jack in the Box is giving everyone a free drink and fries!
Only
on next Tuesday, March 10. No other purchase necessary. Just walk in with your
coupon
and come out with the freebies!!
Receive a $25 Restaurant.com gift card just for joining Travelzoo! Membership and VIP status are completely FREE!
Click Here to Sign Up!
You can choose from over 9,500 restaurants nationwide, including many top-rated offerings in major cities. Many of the restaurants require a minimum food purchase and only one gift certificate may be used per visit. Allow 7-10 business days to receive the gift card. Go to
www.restaurant.com
to learn more about the gift cards.

Fill out these survey's to get a free sample Dove Heat Defense Therapy hair care
here
and/or a free sample of Dove Intense Damage Therapy hair care
here
.
Coffee drinker? Do you like Coffee-Mate? You can join their
Coffee-Mate Brew Crew here
and (if accepted) you'll be eligible to receive promotional items, samples, and coupons to share with friends. Also, Brew Crew members can complete weekly activities to earn points that are redeemable for other rewards.

Walmart continually offers free samples of everyday items. Just sign up and they send it to you, totally easy and FREE. And they never bother me with spam emails, or use my information for anything other than sending me the free sample (and sometimes the sample comes with a coupon too) Some of these you may have already requested, some may be new to you!
Get your free sample of Metamucil
here
.
Get your free sample of Poise Pads
here
.
Get your free sample of Viva Paper Towels
here
.
Get your free sample of Maybelline Liquid Mousse Makeup
here
.
Get your free sample of Crest AdvancedSeal Whitestrips
here
.
Get your free sample of Always Infinity
here
.
Get your free sample of Tena Pads
here
.
Get your free sample of Nicoderm CQ
here
.
Get your free sample of Kotex
here
.
Now, I personally don't have any of the next few in my immediate area, but I am sure the rest of you might!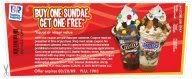 Go
HERE
For a Baskin Robbins, Buy 1 Sundae, Get 1 Free coupon (exp: 3/28/9)!
Wienerschnitzel is offering a
coupon
for a Buy one Get one Free "Sea Dog". A "Sea Dog" is Alaskan Pollock fish stick in a hot dog bun. (Exp 3-31-9)
Good Times Burgers and Frozen Custard are offering either a BOGO Burger coupon for refering one friend or a FREE burger to anyone who emails three friends about
this offer
. The majority of their locations are in Colorado, but they also have a few locations in Idaho, North Dakota, and Wyoming.