I've created a Penny Pinch Plugs community with open membership where I will be posting all of my blogs that can save you money! Likewise, I would hope you will join and share any deals that you find! You can find it here,
Penny Pinch Plugs
. I will continue to update my personal blog with updates that can be found at Penny Pinch Plugs, but I wont be posting the full lists here anymore. Thanks for reading! =)
Get a 1 Year Subscription to Glamour Magazine for $1.50!! Glamour is celebrating their 70th anniversary and going retro with the subscription price - $1.50 was the price in 1939! Hurry overe
HERE
to get this deal, because the offer is only good until March 15, 2009.
Hurry! The first 5,000 that register will get a free full size Essie nail polish. Make sure to say "No" for the subscription and only the red asterisk need to be answered - the four questions at the bottom!
HERE
!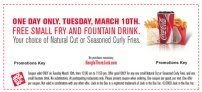 Jack in the Box is giving everyone a free drink and fries!
Only TODAY
, March 10th! No other purchase necessary. Just walk in with your
coupon
and come out with the freebies!!
The Arby's coupon has been extended! If you liked your FREE roastburger (I did!!) go get another one,
HERE
! Also, join Arby's Extras e-mail club and you'll get coupons, my welcome coupon was another free roastburger expiring on the 23rd!
$4 Rebate on Disney's Pinocchio AND/OR FREE Blue's Clues Book from Sunmaid Raisins, details
HERE
!
Save 80% on
Restaurant.com
certificates with code
MENU
, pay only $2 for a $25 gift certificate! Now is a great time to stock up for yourself, or buy extra to hand out for gifts. They last for a full year.
Get a FREE 11"X17" Monsters VS. Aliens movie poster at Office Depot! Just print
THIS
coupon!
Free Nine Inch Nails The Slip Album Download,
HERE
!
Free soft baby blanket with stuffed animal from One Step®,
HERE
! Offer expires March 15 2009 or until supplies run out. You will have to confirm a link in your e-mail to complete the freebie offer.
Register for a FREE do-it-yourself workshop at Home Depot and get a $10 coupon,
HERE
!
Free Ziploc samples,
HERE
! (Sends you to Costco's site to click another link from there, NOTE: You do not have to be a Costco member.)
Free Cyberdog Dog Food samples,
HERE
!
FREE Juicy Juice Sippy Cup & FREE Guide to Your Child's Nutrition, go
HERE
!
FREE Purina Essential Kitten Care Kit,
HERE
!
Free Astroglide samples,
HERE
!
Get your FREE Trial Pair Certificate for Acuve Advance,
HERE
!
FREE Sample of Loreal EverPure,
HERE
! (Register or log in using the link on the upper right of the page. Then click "My Loreal" on the very far right at the top of the page and then to "Special Offers" on the left hand side. You should see some links to get coupons and there's one to get a FREE sample of EverPure. You will also get coupons by mail if you enter in your mailing address!)
Free Total Cereal Sample,
HERE
!
Get a free sample of Tide Total Care,
HERE
!
Free Mystery Spot bumper sticker,
HERE
!
Free Life's A Dog sticker,
HERE
!
Free movie tickets to see Miss March,
HERE
! (Select cities, promotional screenings are on a first-come, first-served basis and not guaranteed seating. No purchase necessary. Seating is limited to theater capacity.)
Receive a free 3.75 oz package of flavored, sliced almonds from Sunkist® Almond Accents®,
HERE
!
Free sample of Flush Doggy® flushable dog waste bags,
HERE
!
Join Friends of Krispy Kreme today and receive a coupon good for One FREE Original Glazed® doughnut,
HERE
!
FREE 2-pack of training socks at and Lucy Store,
HERE
!
Find a Store Near You
, no purchase necessary, not valid online, print coupon and bring it to the store!
Free sample of Mary Kay® Miracle Set,
HERE
!
Free sample of Mary Kay® Mascara,
HERE
!
Free sample of Carmex® chapstick,
HERE
!
Free sample of Aveda® Color Conserve,
HERE
!
Free sample of Skin Breakthroughs®,
HERE
!
FREE Nursery Water Bag Tag, 100 bag tags per day while supplies last,
HERE
!
Free sample of Degree® Men Absolute Protection,
HERE
!
Free sample of Dermitage® Anti-Aging System,
HERE
!
Free sample of Aquafresh® extreme clean with micro-active foaming action,
HERE
!
Free sample of Sure® Deodorant Rebate offer,
HERE
!
Free sample of Armani Code® Cologne,
HERE
! Further more, use code "MAXIM8" at
Giorgio Armani Beauty
for free shipping on any fragrance order!
Free sample of O.B® Pro comfort tampons,
HERE
!
Free sample of GoodNites® Boxers,
HERE
!
Free sample of PARENTS CHOICE® Formula,
HERE
!
Free test kit for Crypton® Freedom from stains™ spills™ odors™ & bacteria,
HERE
!
Free sample of Rachael Ray Nutrish® Premium Dog Food,
HERE
!
Free samples of Always and Tampax® tampons and liners,
HERE
! (You have to be a Teen [or enter a teen b-day] for this offer because I entered my info and it said I was not eligible.)
Free sample of Trident®gum,
HERE
!
Free St. Pauli Girl Beer Poster,
HERE
! Maximum of 400 individual poster orders will be processed each day.
Free sample of Greenies® products,
HERE
!
Free sample of Gas-X® Thin Strips,
HERE
!
Free sample of Aquaphor® Healing Ointment,
HERE
!
Free sample of Emergen-C®,
HERE
!
Free sample of Myoplex®,
HERE
!
Free sample of Metamucil® Pink lemonade and Berry Burst,
HERE
!
Free sample of ACTIV-FLEX® lightweight cohesive tape,
HERE
!
Back Alley Coffee Free Spoon,
HERE
!
FREE Taylor Hicks song Seven Mile Breakdown download at Amazon,
HERE
!
Get 100 Free Business Cards (no shipping or processing fee) from Marketsplash by HP,
HERE
! Offer limited to one order per address or user and you will be required to give your credit card information to receive your order. Your card will be authorized by not charged.
Free jogger wallet,
HERE
!
Great Coupon Deals! >>
Get $10 in coupons from General Mills when you sign up for the
Eat Better America newsletter
.
Buy 5 Frozen Food items from the selected list (Mrs. Pauls, Duncan Hines, Van De Kamp, Hungry man, Lender's, Aunt Jemima) and get $5 savings by mail. Purchase these items from 3/1/09 to 3/31/09. Use this rebate form. You will receive your savings coupons to be redeemed by 7/31/09. Further details,
HERE
!
Get $1 off Boboli
HERE
!
Get $2 off any 2 Purell Hand Sanitizer
HERE
!
Get $1 off Quaker Life Cereal
HERE
!
Get $2 off any Excedrin Express Gels
HERE
!
Get $1 off a bag of Hershey's Bliss
HERE
!
Get FREE Fresh Broccoli at Super Target using this coupon for $1 off 1
HERE
!
Codes and Coupons for http://www.godaddy.com
OYH3 - $2.50 off / $7.45 any .COM (renewals too)
BTPS7 - 20% any order of $50 or more
OYH1 - 10% off whatever
OYH2 - $5 off a $30 purchase
BTPS4 - 10% off anything
chill1 - 10% off
chill2 - $5 off $30
chill3 - $7.45 .coms
hash1 - 10% off
hash2 - $5 off $30
hash3 - $7.45 .com registration
gdd1101c - 10% off any order of $40 or more