Sorry for the lack of post yesterday! I was busy working on the game singage for my daughter's upcoming 3rd birthday party! Here's all the offers I've collected since my last post! Enjoy!
JCPenney
is offering another $10 off $10 coupon code. Just use code
BUDDING
, valid 3/11-3/21, and get $10 off of any $10 or more purchase. (Check out the clearance and sales! I got a $75 ring for $17.02 including shipping!)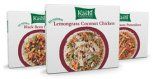 The Kashi free coupon is back (for a limited time only so hurry over) to get your FREE entree,
HERE
.
Fashion Bug has a Spring Preview sale going right now, 30% off Fashion Tops and Capri's and with this code:
776265506
to take $10 off your online purchase of $40 or more now through March 12, just enter promotion code at checkout.
Click here to shop now!
Download the new single from Kelly Clarkson's All I Ever Wanted CD from Walmart,
HERE
! (Enter claim code "dove", if you have never downloaded from Walmart, you will have to download their MP3 downloader.)
Bath & Bodyworks Deals
- Get $10 off any Patricia Wexler MD Dermatology purchase at Bath & Body Works, valid through April 5. Several products are on sale this week for $10 which would make them FREE post coupon!
Go here for the coupon!
(FYI, It prompted me to print right away)
- Sign-up for Bath & Body Works emails and get a coupon for a free Signature Collection Shower Gel (up to $10.50 value) when you make any $10 purchase. This coupon is valid through March 25. (NOTE: you cannot combine this coupon with the above one, just make separate same day transactions.)
Go here to sign up!
- Further more, when you buy any Signature Collection item you also get a free
Zip & Go Tote
(a $10 value, no coupon required, while supplies last) in your choice of pink, blue, or black. (Not sure if this is online only or not. You might want to call your local store before trying to do this in-store.)
- Also, you can use this coupon
HERE
to get any True Blue Spa travel item for free with any purchase of any amount, exp March 15, 2009.
Sign up for Dave & Buster's Free Reward Program and get a FREE $10 Game Play,
HERE
. (Elect to receive e-mail offers and you'll get the coupon as well as more discounts in the future!)
Free sample of Kotex Thin Overnight with Wings,
HERE
!
Free sample of True Lemon, True Lime or True Orange water flavorings,
HERE
!
FREE Metallica MP3's of Live Shows at
livemetallica.com
! (You'' have to do a quick registration, but it is only email/password and you can immediately start downloading!)
Get Scrubbing Bubbles Auto Shower Cleaner for $7 off or even Free!
Printable coupon to Save $7
- they usually run around $12. You can even try it risk free - if you don't like it use this
rebate form
for your money back!
Enter to win a 4days/3nights spa vacation for 2 and also get a free Matrix Biolage sample,
HERE
! Be sure to check the box that says: "Yes, please send me a Biolage sample in the mail (limited quantities)"
Free GeekFlirt Lipgloss,
HERE
! (Sign up today and then you can request your free lipgloss!)
Free Ben & Jerry's Ice Cream on your birthday, just register online at
Ben & Jerry's website
.
Join the
Volpi Italian VIP Club
tasting panel, and get exclusive offers and member discounts. Signing up is free, as soon as you click the confirmation link in the e-mail they send -you'll get a FREE sample!